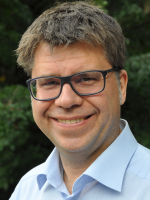 Prof. Dr. sc. nat.
Projektleitung
Gebäude 64, EG, Raum 43
Mönkhofer Weg 239
23562 Lübeck

E-Mail: max.urban(at)th-luebeck.de
Tel.:+49 451 300 5524
Fax:+49 451 300 5512
---
2020 - today
Technische Hochschule Lübeck | Lübeck University of Applied Sciences
Professor for Physics in Medical Systems
2011 – 2020
Philips Medical Systems
Coordination and planning of programs in system development of Diagnostic Radiography and Fluoroscopy Systems in Hamburg, Suzhou (China) and Pune (India):
2019 – 2020 Global Business Portfolio Manager for diagnostic X-ray systems

2013 – 2018 Program Manager for Philips diagnostic radiography program (e.g. Philips DigitalDiagnost, MobileDiagnost wDR)

2011 – 2013 Lead System Designer for mobile X-ray solutions
2005 – 2011
Philips Development and Manufacturing Center DMC
Research and development of X-ray sources (X-ray generators and X-ray tubes) for computer tomography systems (CT), interventional X-ray systems and diagnostic radiography and fluoroscopy systems in Hamburg and Eindhoven:
2008 – 2011 System Architect and expatriate in Eindhoven

2006 – 2008 Senior Designer for hardware and embedded software

2005 – 2006 Hardware- and Embedded Software Developer
2004
Scientific Researcher at the Deutsches Elektronen-Synchrotron (DESY, Hamburg)
Scientific Researcher on computer engineering and embedded software at the Hadron-Electron Collider (HERA, H1)
2000 – 2004
Universität Zürich | University of Zurich
PhD in High Energy Physics: Specification, development and validation of a parallel computing system to distinguish between good Physics events and background in real-time for the H1 detector at the high energy physics Hadron Electron Collider at DESY.
https://ieeexplore.ieee.org/document/1239287
1994 – 2000
Ruprecht-Karls-Universität Heidelberg | University of Heidelberg
Diploma degree in Physics with focus on Electronics, Computer Science and Economics.