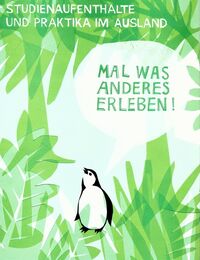 Take the chance to broaden your horizon! You have the chance to go abroad for studies, internships, reseach projects, summer schools or language courses - no matter what you choose to do abroad, the academic and personal benefits are definetely worth the effort:
Gain a new academic perspective!
Broaden your academic, linguistic and intercultural competences!
Boost your employability!
Gain in adaptability, ability to collaborate with people from different cultures, communication skills and problem-solving skills!
Make new valuable contacts!
TH Lübeck students have the opportunity to go abroad for studies, work experiences, summer schools or language courses during their regular studies. On the following websites, students find practical information on how to plan, organize and finance the stay abroad. We also recommend to have a look at the Lernraum course site of the International Office and to attend one of the offered information sessions during each semester.
The International Office also offer appointments for individual councelling.
Furthermore, academic and non-academic staff members of TH Lübeck have the chance to teach or train abroad. Please contact us for further information.