DING
Digital Infrastructure for sustainable Building Operation
In the Climate Protection Plan 2050 (November 2016), the German government still added "almost" to the target of a climate-neutral building stock. However, increasing expectations of 100 % are emerging.
Looking at the interplay of buildings and energy networks (electricity, gas and heating/cooling), one can see far-reaching interdependencies. The DING project was launched to investigate this interaction in detail.
With the aid of a wide range of sensors, a wide variety of parameters can be recorded and used, for example, to influence the energy consumption of buildings by means of suitable algorithms or neural networks. Based on the data sent by the sensors, the current condition of the building, the building occupancy and the behavior of its users can be recorded. With the help of past information, future building use can also be predicted with a certain degree of uncertainty. Corresponding algorithms or neural networks thus make it possible to control lighting, heating temperature, ventilation, blind control, etc. in such a way that the energy required to operate the building is minimized. At the same time, user interventions in the automatic processes lead to a database that adapts the system over time to the needs of the users during building use.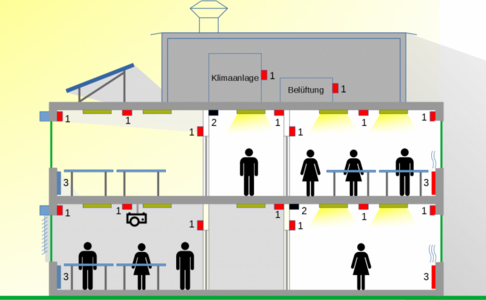 Figure 1 shows an example of how a typical use of a building can look. The left part of the building is irradiated by the sun and heats up, which is why the radiators (3) and the light can remain switched off. When using the beamer, shading by means of blinds is necessary. When there is movement in the corridor, the lighting is activated when the brightness would otherwise be too low. On the right side of the building there is no sun, so the radiators are active and the lighting is switched on.
In this project, CoSA will be responsible for setting up and operating a LoRaWAN infrastructure with a server, various sensors (1) (e.g. for temperature, light, movement, CO2, door/window status) and several LoRaWAN gateways (2). These sensors are installed at neuralgic points in six buildings and send their data anonymously (users cannot be assigned) via gateways to a server on which this data is stored centrally and can be accessed by other research projects.
In addition to the collection of data on building usage, studies on large LoRaWAN networks will also be carried out. The RSSI values of the sensors can be used, for example, to investigate the accuracy of localization algorithms. With the planned number of sensors, it will also be possible to investigate how collisions increase and which parameters could be used to counteract them. The influence of the building structure on the optimal position of the gateways can also be investigated in this way.
---