Mittelstand-Digital Zentrum Schleswig-Holstein
Digitization for medium-sized businesses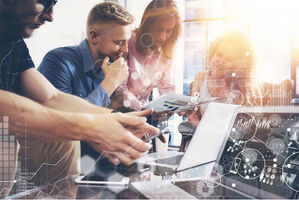 Under the roof "Mittelstand-Digital Zentrum Schleswig-Holstein", several scientific, research, and transfer institutions distributed throughout Schleswig-Holstein are united. This pool of experts provides entrepreneurs with knowledge and practical solutions. In this way, they equip their companies for global change processes through digitization.
The TH Lübeck participates in the field of digital networks, localization, Work 4.0, and sustainability. It offers the method competence for a successful conversion of digitization projects.
The CoSA Center of Excellence of TH Lübeck focuses on the topics wireless networking and locating systems:
Localization and tracking can be used to optimize a large number of business processes, record paths and identify hot spots. One example is our "Energy Efficiency Suitcase". It is designed to make energy consumption transparent and thus identify potential savings. This data can be visualized, it can ensure that automatic notifications are sent or it can be integrated into other systems.
Included in the case are the following sensors:
Room climate sensor, which measures temperature, humidity, light, motion and also CO2.
Window and door sensors, which detect whether they are open or closed.
Electricity meter, which measures the internal energy consumption.
Current clamps, which enable energy data collection and offer further possibilities of evaluation.
Power socket, which measures the current power demand and can be switched on or off completely according to a schedule.
Companies thus receive very concrete information that forms the basis for their further measures with the aim of reducing energy costs and avoiding waste. Ideally, a continuous optimization of energy and resource efficiency is triggered.
Further information and the offers of all partners can be found under the following link:
Offers of MDZ-SH
---