SOFT
Self-organizing RF Transmission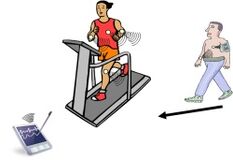 With the increasing capability of embedded systems and proceeding integration of hardware including sensors and actuators, new systems for medical technology can be deployed. Wireless technologies enable comfortable ease of use and a resulting consumer acceptance, especially in case of mobile applications. Wireless standards for mobile applications are IEEE 802.15.4 (ZigBee) or Bluetooth. Due to the emerging field of wireless applications in medical technology our research is focused on these wireless technologies.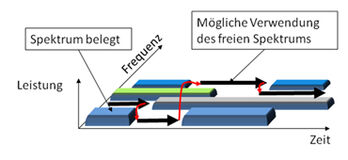 Future wireless medical applications need to guarantee interoperability and therefore ensure coexistence with other wireless systems. Coexistence means that two or even more concurrent radio transmissions do not interfere or disturb each other. Technical target of this project is to improve the reliability of future-proofed radio transmission with cognitive radio by ensuring the coexistence of present and future standards. The focus of this project is on modeling and software-architecture as well on developing new algorithms and protocols for a self-organizing radio transceiver.
Medical Applications with Radio Transmission
One target of this project is to investigate the performance of already implemented wireless transmissions under impact of interference by concurrent transmissions. These investigations involve simulations and measurements. The obtained results are use for new modeling and development of a self-organizing transceiver.
A Cognitive Radio recognizes the radio environment and the current conditions for radio transmissions. Due to this information the transmission parameters are selected dynamically. Through this the coexistence of concurrent radio transmissions is improved.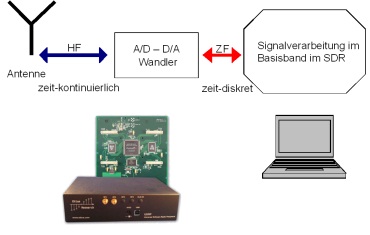 In a Software Defined Radio only the frequency mixing and the analog to digital conversion is implemented in hardware. Complete signal processing in the base band is performed in software. This enables flexible extension of a traditional transceiver to a self-organizing transceiver where transmission parameters can be selected due to the concurrent radio environment and conditions.
Within this project a software defined radio platform was build up. This platform offers multiple fields of application for study projects and theses. Furthermore it is used for teaching to explain students the theory of signal processing for radio transmissions.g verbessert und somit die Zuverlässigkeit der Funkübertragung erhöht.
---
Project Partner

The TGZ project is carried out in cooperation with the Centrum Industrielle Biotechnologie (CIB) of the Lübeck University of Applied Sciences and the BioMedTec Science Campus. It is part of the funding "Cooperation Management of Health Technology at the Lübeck Location", which is financed by the "State Program Economy" of the European Union, the Federal Government and the State of Schleswig-Holstein.

Funded by

Bundesministerium für Bildung und Forschung
Förderkennzeichen 17N3809, SoFT

Institut für Telematik, Universität zu Lübeck