PRECISE
Intelligent solution for sustainable meat production and consumption
Restaurants and grocery stores currently rely on printed best-before dates for meat and fish products based on general predictions. However, these predictions are often inaccurate and result in products being discarded prematurely. For example, a prediction of 8 +/- 3 days is made for pork cuts at a storage temperature of 5°C. For safety reasons, best before dates are often limited to 5 days, resulting in a significant waste of at least 48,000 tons per year in the Schleswig-Holstein/Syddanmark/Sjælland region.
This project aims to enable better resource utilization by developing a sensor that provides precise measurements of the expiration date of meat. This can prevent up to 50% of current meat and fish waste. The sensor provides accurate information about the freshness of the products and allows them to be used optimally instead of being thrown away hastily.
PRECISE is developing a handheld sensor for real-time measurement of the freshness level of meat and fish products. The sensor is based on a micro-cantilever and uses the biomarker cadaverine to determine the degree of spoilage. An advanced algorithm and artificial intelligence correlate the readings with microbial counts for accurate product safety. The cross-border consortium of SDU Sønderborg, Fraunhofer ISIT and AmiNIC ApS is working together to introduce this innovative method for determining the expiry date of meat and fish in the retail sector.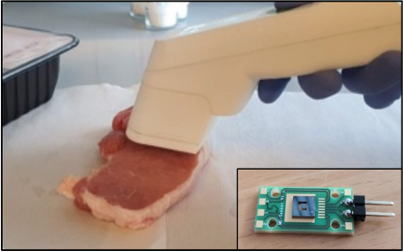 ---