Today's data connections in mobile communications (4G/LTE) are reaching their limits in new applications such as automated and connected driving (AVF) and flying with civil, commercial unmanned aerial vehicles (UAV). The fifth generation of mobile communications (5G) offers a faster and higher as well as safer data link than other generations such as 4G. Especially for autonomous driving and flying these are important factors, in order to guarantee a reliable connection between different vehicles so they can react appropriate.
For this reason, the four communities Tinningsted, Enge-Sande, Leck and Klixbüll (short TELK), which are located in the north of Nordfriesland (NF) in Schleswig-Holstein (Germany), decided to implement a private 5G campus network. The network will be an important possibilites for different stakeholders (public authorities, companies and research facilities) to test innovative use cases in autonomous driving and flying, and will one day lead to a locational advantage for the economically underdeveloped communities.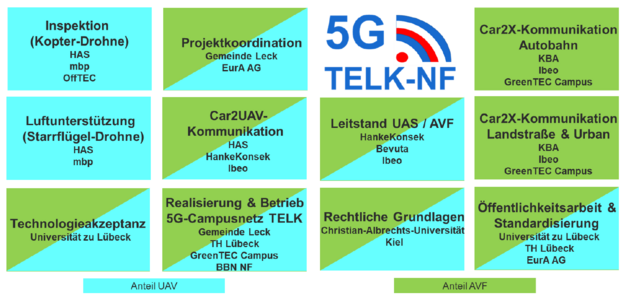 In addition to the technical aspects of developing and setting up a 5G campus network, the project is receiving scientific support in the areas of acceptance research and the (further) development of legal foundations in both autonomous driving and unmanned flight.
The CoSA Center of Excellence accompanies the development of the 5G campus network and conducts a requirements analysis on the applications. Based on the requirements analysis, planning of the network architecture and network management is carried out, recommendations for the technology are made and security concepts are investigated. The goal is to optimize the technology so that the application can be studied in a practical way. The trials in the use cases are supervised by the CoSA Center of Excellence.
To ensure the sustainability of the project, scalability and transferability to other regions and areas in Schleswig-Holstein and nationwide will be considered, taking into account the practical experience gained.
For more information on the 5G-TELK-NF project, please visit the Website of the Project.
---