The economy is on the threshold of the fourth industrial revolution. Driven by the Internet, real and virtual worlds are growing together to form the Internet of Things. We are working on cross-sectional technologies such as wireless networking, positioning and virtualization. Furthermore, we analyze effects of digitalization on the labor market and on different employment groups in order to shape them in the interest of all stakeholders.
We develop solutions for:
Industrial IoT
Industry 4.0
Communication Systems
Information Systems
Current Projects

Completed Projects

DING
Digital infrastructure for sustainable building operation
DRAISE
Wireless, robust, adaptive, industrial systems
G-Lab
Real-World G-Lab
HERDS
Hard real-time regulations with wireless sensors
LOCIC
Autonomous telepresence robots - localization
m:flo
Multiple frequency bands for localization

Mittelstand 4.0
Digitization for medium-sized businesses

MOIN
Minimal tracking infrastructure

RosiE
Robust and safety-relevant real-time localization
Demonstrator
The networked transport trolley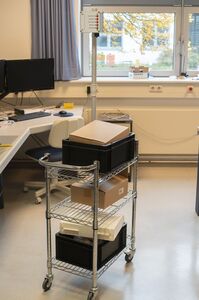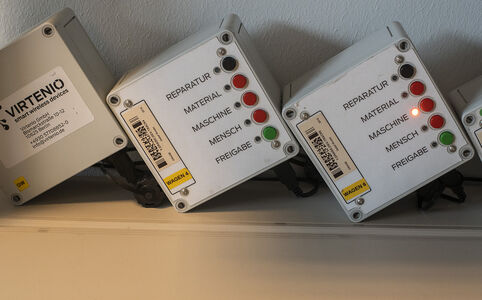 Within the framework of the transfer project Mittelstand 4.0 the center of excellence has developed a transport trolley that can do more than just transport objects. It can be controlled via digital networking and thus efficiently optimize production processes. The devices are tracked to determine their movements and locations. This is done by using optical methods such as QR codes or signal runtime measurement. If the transport carriage is in one place for too long, the reason for this can be reported back by means of a button.
You can experience tracking using a demo transport cart at CoSA. The location and status of the trolley are displayed in a web application in the building plan.
---
"Solutions for industry and the fourth industrial revolution are often individual and can only be solved in an interdisciplinary way. Processes are simplified, optimized and the workload reduced in the process."
Swen Leugner, M.Sc.
Have we aroused your interest? If you would like to learn more about our work in the field of industry, we look forward to hearing from you at:
Phone: +49 (0)451 / 300 - 5609